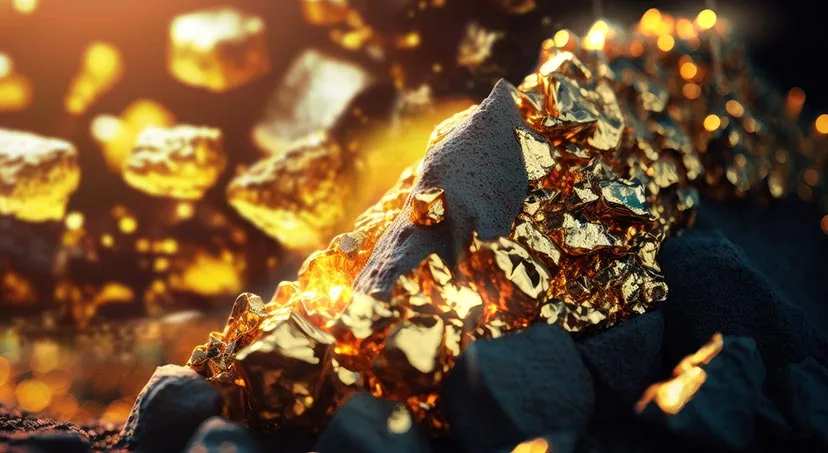 The first Europeans who visited Japan in the middle of the 15th century called it a country of gold. More than three thousand years ago, the yellow metal was extracted from mines and river placers of the Japanese islands.
Japanese masters used gold not only to make jewelry and decorate weapons, but also in in the interior design. Unlike artists from other countries, they used pure gold sand instead of paint.
Maki-e art has no analogues in the world
In the photo: A maki-e gold painting master's brush can consist of only one hair.
Maki-e, aka dusted painting, is a style of Japanese decorative art. An image is painted on the surface with lacquer, afterward, a golden dust is scattered on the partially dried lacquer. When the lacquer dries, a sparkling yet unrefined pattern appears, which requires further polishing.
In the photo: 20 types of gold powder for maki-e were made in Japanese factories, starting from fine powder to coarse sand.
There are three classic maki-e techniques:
Takamaki-e — a drawing has a relief pattern. Craftsmen created volume by adding charcoal to the mixture of golden sand.
Hiromaki-e — the technique combines traditional maki-e and contour engraving, owning to which the drawing gets its texture.
Tohidashimaki-e — a golden image coated with multi-layer lacquer and polished to a perfectly flat surface.
In the photo: inro, a small portable case for holding small objects, worn on the belt, 19th century. Maki-e with gold and silver.
The history of maki-e
Maki-e objects were originally used only by noblemen and priests of Buddhist temples. Soon, the imperial family grew fond of it, as well as military seniority. In the 4th century BC, maki-e became massively popular in Japan, even the emperor himself appointed the head of the lacquer painting and craftsmanship guild.
In the photo: a box for writing supplies "Seven poets under blossoming cherry and pine tree".
Young artists who wanted to learn an intricate, but profitable art, underwent long-term training at schools in the city of Edo. Thin and soft brushes were used to draw lines, and as for the golden sand-painting, bamboo tubes were applied.
In the photo: a drawer-cabinet for storing Buddhist scriptures: Sutras, decorated with paintings in the hiramaki-e technique.
The process of lacquerware was of particular importance. The lacquer was made from Japanese urushi tree juice. The juice was purified, then evaporated to a consistency of liquid honey and stained in black and red. This lacquer was well laid out and polished, but each layer of it hardened in conditions of high humidity only after 24 hours.
In the photo: A picnic kit with golden chrysanthemums.
Starting from the mid XVI century until the end of the XIX century, Europe periodically experienced a booming trend of "Japanese lacquered" furniture. Genuine lacquered maki-e furniture from Japan has been highly valued by wealthy Europeans. Now the masterpieces of lacquer and gold paintings can be seen at the British Museum, the Metropolitan Museum and, of course, in Japanese galleries.
In the photo: containers for the storage of incense or spices. Similar maki-e items were popular in the nineteenth century in the aristocratic houses of Europe.
Ancient art in modern times
There are still artists who have mastered the art of maki-e. Many of them work in the workshop of elite pen-maker Bernard Lyn, who produces products under the brand name "Danitrio". These pens are highly valued by customers all over the world and cost from $2,000 to $30,000 dollars. Bernard wrote a book on the lacquer technique and gold painting, which became a workbook for many young artists.
In the photo: exclusive "Danitrio" pens are painted by the ancient technology of maki-e. It takes six months to a year to produce such a pen.
Maki-e products are very popular among collectors of Japanese art. They are durable and do not require special care. It's enough that the room has an average humidity level and cleanliness.
The quality of gold
Gold makes any item more valuable. This is one of the noble metal's distinctive qualities. Its property — to preserve savings, is no less important.
Gold can help you gain Financial Security.