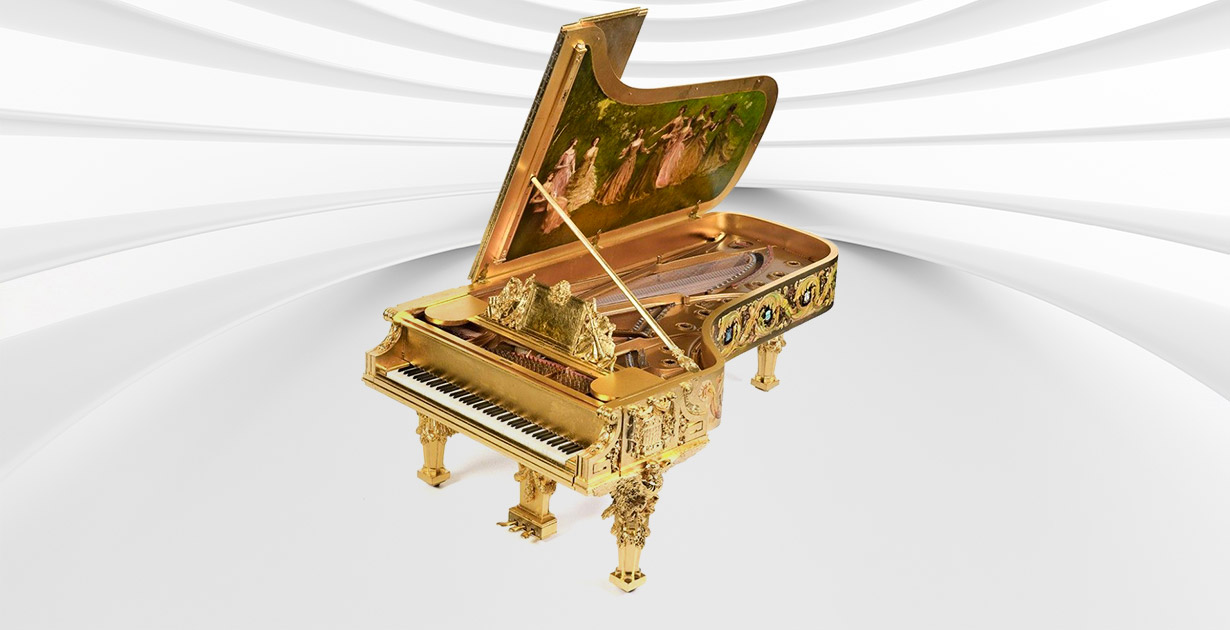 Top 3 golden grand pianos
26.08.2022
Average reading time — 3 minutes
In this article, we will show you amazing instruments with breathtaking sound, which, thanks to the efforts of high class craftsmen, combine the perfection of music and the luxury of royal design.
1. Galaxy grand piano — $1.36 million
Galaxy Piano was made by Galaxy Instruments from the United Arab Emirates and is designed for the most demanding customers. The luxurious musical instrument is made in Dubai, but all the main parts came from Germany.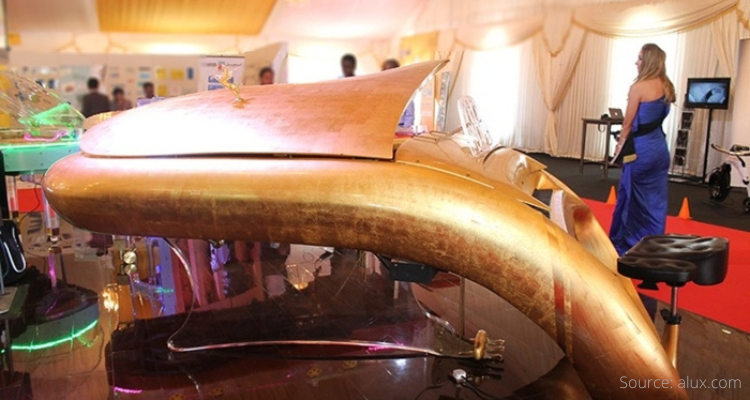 In the photo: Galaxy Piano's masterpieces satisfy the needs of the richest clients in different parts of the world.
The body of the luxurious musical instrument is made of fiberglass and plated with 24 carat gold. But that's not all, manufacturers have come up with an automatic lid and a curved keyboard. The piano makers decided to impress demanding customers even more and decorated the Galaxy grand piano with gilded figurines.
2. Bechstein Sphinx — $1.2 million
Craftsmen made every detail of this masterpiece by hand and spent 1,800 hours to assemble it.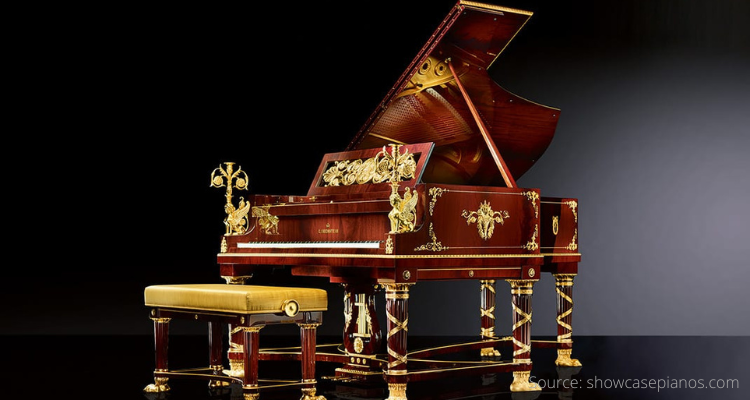 In the photo: an unsurpassed combination of natural materials and gold is a tribute to the great Empire style.
32 months of work were crowned with success. The body of the piano is made of mahogany, spruce and beech. Since the firmness and brilliance of the instrument depend on the technique of applying gold, it was decided to gild the carved details in an authentic way "through the fire". After heat treatment, the gold plating acquired a dull yellow color, which gave the instrument a certain mystique. Exquisite figurines are also covered with gold, and thanks to a special polishing method, they acquired a bright sheen.
The instrument, unsurpassed in beauty, is guarded by sphinxes — mythical creatures with a massive lion's body and a mysterious female face. Designers turned to Greek, Egyptian and Roman motifs, elegantly emphasizing the value of the heritage of ancient cultures with the help of the noble metal.
3. Kuhn Bösendorfer grand piano — $1.2 million
Bösendorfer is a renowned manufacturer of status musical instruments in Austria. The company is proud of a long history that began in 1828. In a relatively short period of time, manufacturers were able to supply instruments to the court of the Austrian emperor. Bösendorfer is famous for producing a limited number of expensive pianos. For example, in 2003, designers created only three Bösendorfer Swarovski Crystal Grand instruments, the bodies of which were encrusted not only with 8,000 Swarovski crystals, but also with gold.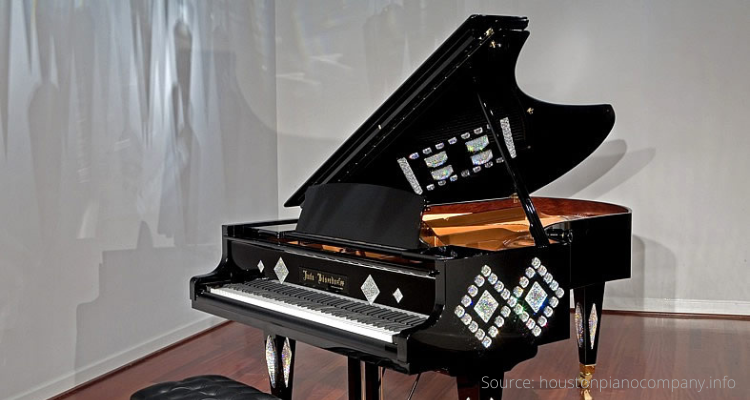 In the photo: renowned glass artist Jon Kuhn admitted that the collaboration with Bösendorfer was "a highlight of his career".
Kuhn Bösendorfer, a stunning piece of art with a body encrusted with 100,000 sparkling crystals arranged in the shape of diamonds, was manufactured in 2009. Each instrument is inscribed with the owner's name in gold leaf which is embedded in the iridescent crystal Kuhn Bösendorfer logo.
Read also the article: